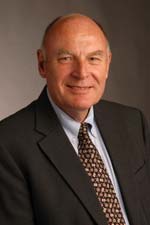 I learned this morning that my dear friend and mentor, Arthur Harkins, passed away yesterday. As a well-known futurist, commentator and professor, Art had the opportunity to touch a lot of people's lives. Art was one of those natural born teachers who are too few and far between. He had an intense desire to help people nurture their knowledge and could be very effective in doing so. When you signed up for a course with Art it was very likely that you would come out of it a very different person than when you started. Art didn't just impart knowledge. He changed the way that people think and view themselves and the world around them.
I first met Art when I started my graduate studies at the University of Minnesota in 2004. He was my advisor and as far as I knew at the time he had been somewhat randomly assigned to me. It wasn't until much later that he told me that he had picked me out of the student pool because I raised questions about the future of education in my application essay. Typical Art – he was always on the lookout for natural futurists.
Art and I didn't come to realize the extent of our mutual interests until I took his "Knowledge Formats" course a year or so into my studies. If I remember correctly there were about 15 students in the course but much of the classtime ended up being consumed by some pretty intense discussions and debates between Art and myself. It wasn't just a two person gab fest, though, and fellow students were very active in those discussions as well. I think that in the end everyone appreciated the depth of understanding that emerged from those discussion because we were dealing with some very tough subject matter.
It was in Art's "Knowledge Formats" course that I discovered how accommodating Art was of my way of thinking. I was allowed to make references to things like science fiction, futurists and creative visions of society without the side-glances and "tsk tsk's" that I had become accustomed to. (In high school I once proposed to an english teacher that I be allowed to do an independent study on science fiction literature. She didn't even have to think about it. She said no way, science fiction is not viable literature. She didn't give in until I had gone to the library and dug up some prospectuses from US universities that showed that sci-fi literature was actual a thing. But she would only allow Kurt Vonnegut! Not quite my understanding of sci-fi but I was willing to chalk baby steps down as a win nonetheless.) But that's not to say that it was all some wishy washy post-modern free-for-all with Art. The future was always serious business with Art and he demanded critical, academic and rigorous work. It was probably this that gave me the most in my early interactions with Art, the discovery that I could, and how I should, balance my creative thinking with the scholarly demands of academia.
Later, when I decided to pursue my Ph.D., it was hardly even a question – I wanted to continue working with Art and so I returned to Minnesota. This time, of course, Art and I would work far more closely together than when I was doing my masters. Over the following five years Art and I, along with various others, worked on a range of projects, created courses, taught courses and futured together, intensively at times, and through all of it I learned so much that I'm even still trying to wrap my mind around it. And for all of that, I am very grateful.
In some ways it might be said that this very website is sort of a monument to Art. I actually started this site when I was taking Art's "Knowledge Formats" course for the specific purpose of keeping a journal of all the thoughts that were streaming through my head at the time, and then I just kept going. It's now been eleven years and there are over 200 articles. I may not specifically mention Art often in them but his spirit is certainly embedded in each and every one.
My deepest condolences go out to Art's family.