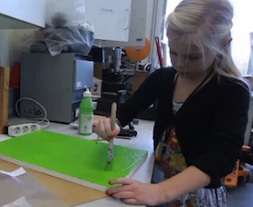 The "Science Fair" is an age old institution, at least in US schools. Science Fairs can be a lot of fun and they have the potential to engage students while introducing them to research methods and the importance of science. But, they've become rather staid. It's the same old experiments over and over again. It's such a standardized format by now that if a student is stumped for ideas, she can go to the web and simply google "science fair projects" and get step-by-step instructions for a range of projects. The few really challenging projects tend to be more the product of parents than students (I've judged at my daughters' science fair and, believe me overly involved parents, you're not fooling anyone). What's missing from all of this is the creative aspect of science; discovering new real-world problems that need to be solved and formulating solutions to them through the use of the scientific method. Some schools are adopting an alternative to the "Science Fair" and, instead, conducting "Innovation Fairs" which engage the students in the exploration of solutions to real problems, big and small, focusing on fostering young people's natural inclination toward creativity and experimentation.
In Iceland, students in compulsory school (grades 1-10) have had the opportunity to participate in an "Innovation Fair" for the past 20 years (see here for info in English). The Innovation Fair is a competition where students propose their own problems to address and come up with potential solutions. Most schools hold their own competition to select projects to submit for the national competition. Of the projects submitted to the national competition, 60-70 are selected for further development. Students responsible for selected projects attend a workshop where they get help working out some quirks in their projects and get to hone their presentation skills. The final projects are then judged and winners selected on the basis of their creativity and their relevance.
Projects range from simple solutions to non-obvious problems to groundbreaking ideas that can potentially contribute to profound change. Among the projects being developed in this year's competition are (see video from this years competition in Icelandic):
a night table that is specially made to keep readers' place in their books,
better foundation for paved roads that will increase their durability,
a fertilization meter that measures the amount of essential nutrients in the soil.
Past winners have included:
price tags for the blind
a tent for clothes lines that is automatically activated when it starts to rain
an innovative shovel for shoveling snow
Young people have a natural affinity for identifying everyday problems and coming up with innovative solutions for them because they haven't become as mired in the "way of doing things" that we adults have. Innovation Fairs provide an ideal means to promote and foster their creativity while also introducing them to the methods and purposes of science and scientific thinking in practical contexts.