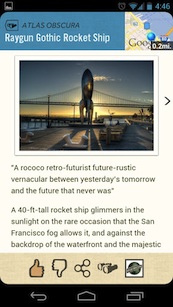 One of the ways that I like to describe augmented reality (AR) technologies is with the somewhat metaphorical, "AR makes it possible for your environment to tell you about itself." Well, I guess it's not a metaphor anymore! Google has just released its new Field Trip app for Android, with an iOS (iPad/iPhone) version to come soon. When enabled, the app sends notifications to your device about "interesting things" in your vicinity. If you have headphones connected (bluetooth or plug-in) it'll even read the notifications to you.
I haven't been able to really test the app yet to see what kind of info it passes along. I guess Google thinks I live in a rather uninteresting neighborhood. The only notification I've received is about a new restaurant a mile away from my home. It'll be interesting to see what it tells me when I start moving around the city.
My biggest worry is that it's going to be mostly advertising disguised as "useful info". It is possible to adjust some settings to control the type of info it passes along. Some of the categories available are architecture, public art and historic places & events. I do worry, though, because I know that there are various interesting things around where I live (ex. the University of MN's St. Paul campus – lots of public art there, Gibbs Museum – farming dating back to the mid 19th century) but, as I mentioned, the only thing the app has deemed worthy of my attention is this new restaurant.
I have yet to see how useful the app turns out to be for me. Although the app looks good and functions well, it has been getting some iffy reviews regarding its usefulness. It seems that others' experiences are similar to mine, i.e. they know that there's stuff out there, but the app isn't showing it. Because of the seeming lack of info, the app is likely to be more of a fun toy to begin with than a reliable source of information. But, given time, it's sure to get better.
Field Trip will have amazing potential for use in education once the current limitations of the app have been worked out. I'm sure that innovative teachers at all educational levels will have no problem finding ways to put the app to good use. One thing that would increase its usefulness for education is if data sources were customizable. That way instructors and learners could set up their own specialized "field trips" to fit specific learning objectives. Think how cool it would be if an instructor could integrate something like that in an electronic textbook!